{vendor.name}
---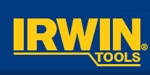 Irwin Industrial Tool Co
IRWIN TOOLS manufactures and distributes professional grade hand tools and power tool accessories worldwide for trade professionals who demand superior performance and durability on the job. IRWIN TOOLS' brand portfolio features user-preferred category leaders such as IRWIN®, Vise-Grip®, Marathon®, Quick-Grip®, Speedbor®, Strait-Line®, Marples®, Unibit®, and Hanson®.
Follow Irwin Industrial Tool Co Online
Want more information on Irwin Industrial Tool Co? We can help.
Fill out the form below and we'll get in touch. The fields marked with, *, are required.