{vendor.name}
---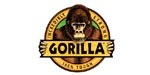 Gorilla Glue Company
The Gorilla Glue Company is based in Cincinnati, Ohio and has been selling Gorilla Glue® for over a decade. The glue was first discovered being used in Indonesia on teak furniture, but consumers soon found it to be incredibly versatile and demand soared. On a mission to make products that deliver impressive results, the company has since expanded its offerings to include Gorilla Tape®, Gorilla® Super Glue, Gorilla® Wood Glue, Gorilla® Epoxy and Gorilla® Construction Adhesive. At Gorilla, we believe in high-quality products and choose to only put the Gorilla logo on products that meet rigorous development standards.
Follow Gorilla Glue Company Online
Product Lines
Categories
Want more information on Gorilla Glue Company? We can help.
Fill out the form below and we'll get in touch. The fields marked with, *, are required.