{vendor.name}
---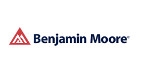 Benjamin Moore & Co.
When it comes to premium paints and stains for your home, we have set the standard for excellence. We manufacture our own resins and proprietary Gennex® colorants, which deliver superior performance and application properties in every product. Paired with our incomparable selection of authentic colors, our products are formulated to help you achieve beautiful, lasting results every time you paint.
Follow Benjamin Moore & Co. Online
Product Lines
Categories
Want more information on Benjamin Moore & Co.? We can help.
Fill out the form below and we'll get in touch. The fields marked with, *, are required.