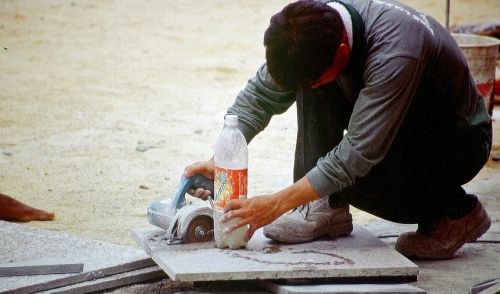 Cutting tiles in a straight line is hard enough without damaging them and cutting angles is a little bit more difficult. With that being said you might need some advice. Here are some tips on cutting angles with a tile saw:

Practice first
Before cutting into any tile that you are looking to actually use, set the proper angle and practice on some scrap tile. Get the speed and cut to something you like before moving on to your actual tile.

Cutting techniques

Slow Movement
Cutting tile takes some patience, much more so when it's at an angle. Move slowly so as not to chip away at piece of the tile. If you move too fast like you're using a circular saw, that's exactly what will happen.

Leaving Extra
Whenever you cut, cut more towards the side that you will not be trying to fit. Whatever extra there is can be taken off with a grinding stone.